For information on images or assignments either phone or email me on:
---
Find me on Facebook: https://www.facebook.com/Photo.martyn.goddard
---
About Me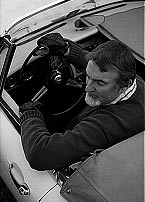 Born a while back in Aylesbury Buckinghamshire England. Studied photography at Harrow College Tech & Art. Assisted various superb photographers, before becoming freelance, working for IPC magazine's. I found myself part of the New Wave music scene of seventies & early eighties. Working with acts such as Blondie, The Jam & Wham etc. My Subject range extended after working for the Sunday Telegraph Magazine on portraits and features and Car magazine on automotive assignments Since the mid eighties I have worked extensively for a wide range of Magazines, Advertising agencies and Corporate clients in Europe and the USA. Especially my friends at Automobile magazine. I have had several exhibitions which have been notable by being able to meet the consumers and the public! I became a "Fellow of the British Institute of Professional Photography" in 1987. My Interests outside Photography are my Family, Rally Driving, Mountain Biking and a Photo Journal.
---
About This Site
Welcome to martyngoddard.com. This website is designed as a browse for present and future clients and a brief insight into my image stock for potential customers.
The web site features current assignments and a retrospective group of folio's covering the wide.
---
Awards
Hyundai Automotive photographer of the year UK. (2002, 2003, 2005, 2006)
2010 Audi car photographer of the year.
Highly Commended – BCA featured writer of the year 2012.